VR Box Glasses stand out for presenting a incredible value for money compared to others with similar characteristics that we find on the market. Besides being cheap, the vrboxes are quite aesthetic, since the model in white is easily recognizable and aesthetic.
Las VR Box 2.0
son comfortable and have a very ergonomic design both in the lenses and in the control. These vrbox glasses are padded and with a thick fastening strap and the control has a joystick and six buttons, is comfortable and adapts perfectly to the shape of the hand.
Características de las Gafas VR Box 2

.0
Characteristics:
Adjustable distance to eyes
Optical axis slip
Adaptable foam rubber in the contour of the face to avoid damage and discomfort during use.
Adjustable and flexible headband

Clip ajustable para fijación de cualquier tamaño de smartphone con un rango de 4

,

5″

;

a 5

,

7″

;.
Minimum requirements of your mobile
Lo cierto es que las VR BOX 2.0 they are glasses that They do not need great requirements from Smartphone and today most mid-range phones meet all, to be sure if our model is one of the many compatible before buying, We present a list of the requirements below:
It is essential that our phone has at least, an operating system

Android 4.4 e iOs 9

.0 the superior
It is essential to use the control of the glasses that the phone has Bluetooth, as this is the type of connection you need to sync.
We have to take into account that the glasses have a slot in which we will place the Smartphone. For this reason it is necessary that the

tamaño sea de entre 4.5 y 6 pulgadas

.
Regarding RAM, any phone you have

2GB o más de memoria RAM

it is perfectly capable of working with these virtual reality glasses.
What's more, it is more than recommended a at least quad core processor.
There are two sensors totally necessary to enjoy the glasses: gyroscope and accelerometer. The accelerometer is responsible for adapting to changes in horizontal and vertical orientation. They also detect distance, the speed and movements we make. For his part, the gyroscope is in charge of determining movements and gestures in a 360º view. These two sensors provide virtual reality with that point of accuracy that we seek.
It is advisable to play with a mobile whose

resolución sea de 1080 píxeles o FullHD

. This is not essential, but it is true that with a lower resolution, the quality of virtual reality will be altered.
Compra las Gafas VR Box 2

.0 at the best price on Amazon
How to set up vr box glasses
Here we explain what you need to know to configurar vr box:
It is essential to know the item that we have bought and therefore, we will explore the glasses. The first thing we should do is try them on and adjust them to our head so that later it does not bother us during the experience.
Then, you must configure the remote. It is as simple as:

Select on the side if your device has an Android or IOS operating system.
You must turn on the remote by pressing the Power button for a few seconds.
You must also activate Bluetooth and connect it with the VR device by pressing the A key on the remote.
Once paired via Bluetooth connectivity, we must access any game or application specialized in virtual reality:

It will be as simple as searching for VR in our app store, or select one of the ones that we present to you if you keep reading.
Once we are inside the application, will ask us to insert the phone into the lenses.

When you pick up the glasses for the first time, you will see that on one side, we found a tab. If you pull that tab, will come out support for the phone in which you must place the Smartphone, always with the camera oriented to the right side. This will be important as the camera could be used in some applications.
Box content
One of the things I like the most about this product, es que cuando compras las VR BOX 2.0, not only do you take glasses. What you really buy is a box with a pack made up of the lenses and a series of accessories for the correct operation and maintenance of the glasses. and for you to enjoy a totally comfortable experience in the world of virtual reality.
This is a huge advantage considering that, if it is already one of the cheapest models on the market, this makes it still a more attractive option. In the pack is included:
Por supuesto

, nail

gafas VR BOX 2

.0 padded and with fastening tape
A I send Bluetooh Controller
Tempered glass to protect the lenses
Special wet wipes for cleaning of screens and lenses
Cloth wipe for cleaning of screens and lenses
Pads for correct support of the Smartphone in the glasses
Stickers to adjust the grip of the Smartphone
Instruction guide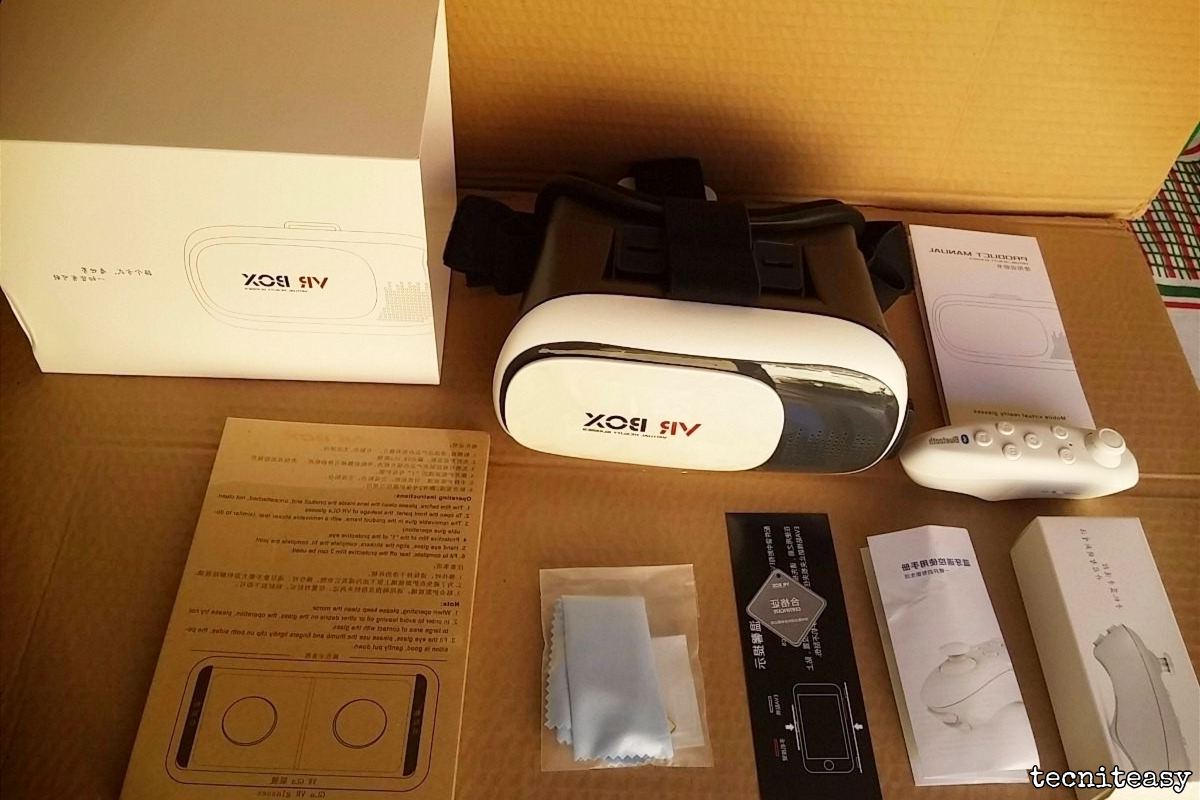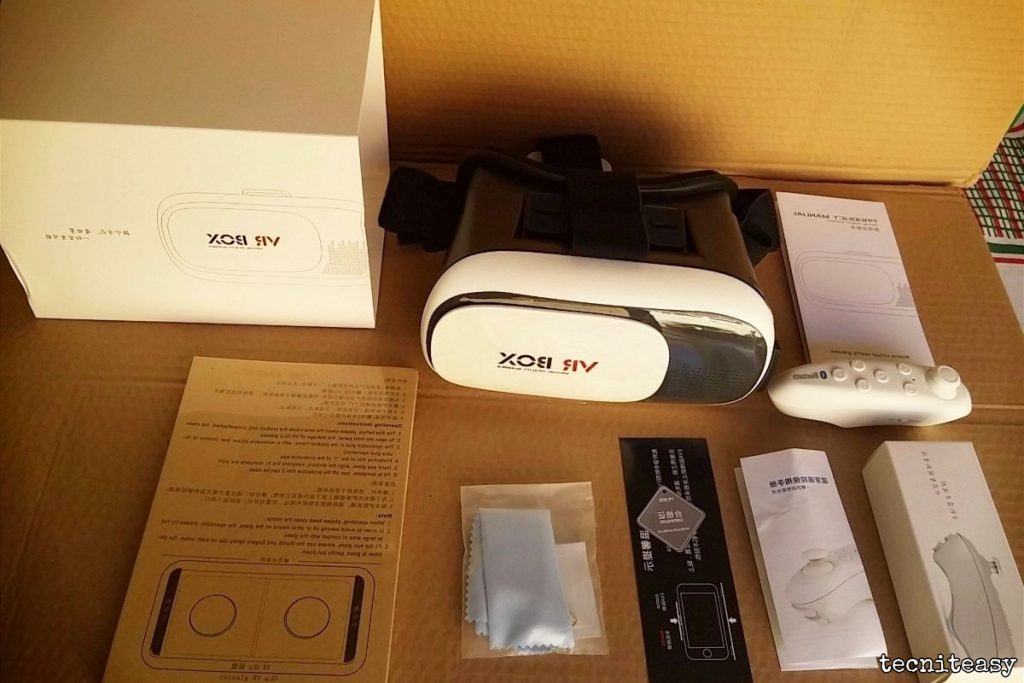 Best games for vr box glasses
Obviously, games are something quite personal since we all tend to have different tastes, but like the download platforms present their section of highlights, we can recommend some mobile games that, in terms of virtual reality sensation, they are the best and also, we are going to put a little of each theme, to be sure that some of them you love. And a little detail to highlight, All the games we have selected are free!!
Haunted Rooms: Escape VR GAME
Scape rooms are in fashion in all parts of the world, and this could not go unnoticed by the world of virtual reality. In this game, you will experience the feeling of being locked in a haunted house inhabited by spirits. Through vivid scenery with stunning graphics, you must try to escape by overcoming the challenges and unlocking new episodes.
VR Last Commando II
For lovers of survival games and commandos, being able to experience it in virtual reality is inexplicable. In this exciting simulation experience, you will become a member of a special command and you must advance armed and face the enemy forces (mercenaries and terrorists) who try to occupy your territory to save your life and that of others.
VR Racer – Highway Traffic 360
One of the great passions of many is speed. Being terribly dangerous in our daily lives and unexciting in ordinary games, the perfect alternative lies in the balance of virtual reality. Decide whether to drive in the day or at night, customize your car and don't let anyone go ahead of you.
Wizard Academy VR
If you want to learn to be a real magician, in this game you can put yourself in the shoes of one and train to compete with your spells against evil demons. If something stands out about this game, it is well-designed graphics that could well belong to a quality platform game.
VR Space Stalker
Outer space games are a classic in video games, and therefore have also had their place in the development of virtual reality. Control a ship, shoot enemies and above all, enjoy graphics wherever you look, are worth seeing for the color scheme and visual impression.
Hardcode VR
We are facing another shooting game yes, but this also has the particularity of being online and multiplayer. This means that you can enjoy the experience of shooting with your friends as if you were in a paintball session., but with futuristic graphics in striking colors and without leaving the comfort of your home.
VR Pacman
The arcade was a vital source of entertainment decades ago and even continues to be important in some places.. That is why the main games of these arcade machines have millions of fans around the world.. And in case you are one of them, that you know that the famous Comecocos has a version in virtual reality that you cannot miss.
Dark Walks VR
A game with history, in which you will put yourself in the shoes of the security personnel who have been assigned to guard an abandoned hospital in which, after a fire, some souls continue to roam the place. Spectacular the climate that is achieved between image and sound to transport the player to that atmosphere.
Final Kick VR
We are not forgetting football lovers in this selection of games. Se trata de una simulación del deporte rey que contiene más de 20 torneos que no requieren conexión a internet. Simple controls and realistic graphics that will envelop you. Enjoy the tension of the best shots, surprising plays and spectacular saves living the matches from within.
The best applications for vr box glasses
Besides the games, there are a series of applications and services for our mobile phones that can allow us to enjoy the experience of virtual reality. Simulations, gorgeous scenery visualizations, browsers in which we can enter and, just like games, the ability to make us feel all kinds of emotions without moving from the sofa. All this is provided by the applications that we can access with our glasses.
And how could it be otherwise, We are going to present some of the ones that stand out for being free and providing a more than satisfactory service.
Jurassic VR
It is a simulation application of the Jurassic world with which you can walk among different types of dinosaurs and prehistoric species as if you had them next to you.
VR Roller Coaster Temple Rider
It's a roller coaster simulation, but it is not the classic we know but it has spectacular graphics in the shape of a temple that catch.
Fulldive VR
Es una plataforma de navegación como cualquier otra pero con la característica de funcionar con lentes de realidad virtual y ofrecer una visión 3600 de todos sus servicios como buscadores, videos on Youtube and any service.
Sites in VR
It is your application if what you want is to visit different countries from the perspective of virtual reality. Many cities are available and with a total image.
Arte360 VR
It is an application created by a European cultural network called Arte. Thanks to her, we can live experiences like concerts in 3D, museums and other artistic expressions.
Discovery VR
It is the ideal application for lovers of Discovery Channel programming. Now you can discover the oceans, Documentary volcanoes and jungles in a stunning new way.
VR Chat
It is not an application itself, but it is an attractive website where you can make friends, meet people and enjoy virtual reality by creating a character and in exceptional graphics.
To this list we must add the virtual reality section of some platforms, who have their own application. Youtube y su canal de vídeos en 360 grados, Netflix with its videos that we can view with the lenses to enjoy the experience ... this phenomenon is spreading more and more.
Plus, It has gone global so quickly and so appropriately, what any pocket can be made with an accessory that once seemed as exclusive as virtual reality glasses.
Pros and cons
Pros:
and allows the use of your lenses under the glasses
They fit any size, so they can be used by children and adults anywhere
The lenses are movable
Very economical price
Quality material
Cons:
The headphones, controller and mic are not included
They don't have the widest viewing angle on the market but if more than enough for a great feeling
Does not bring VR multimedia content own
Links that may also interest you:
External references: